Apr
5
Mon
SouthTalks: "Mossville: When Great Trees Fall"

@ Online
Apr 5 @ 6:00 pm – 7:00 pm
The MFA Program in Documentary Expression welcomes filmmaker Alexander Glustrom as its Visiting Documentarian for Spring 2021. Glustrom has directed, shot, produced, and edited a wide variety of film projects ranging from commercial, music, and art videos that have reached hundreds of thousands online, to documentaries that have been featured in film festivals internationally. He has shot footage that has aired on HBO, CNN, Fusion, NYtimes.com, Great Big Story and Democracy Now. He has also created a number of fundraising videos that have raised thousands of dollars for New Orleans youth programs. Glustrom's first feature film was the award-winning documentary, "Big Charity" which he directed, shot, produced and edited.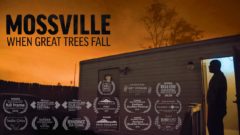 His second feature documentary and the one he will screen on Monday, April 5, Mossville has won more than fifteen awards at festivals around the world and is currently broadcasting nationally on PBS and is scheduled to be shown to the United Nations in Geneva in Spring of 2021.
Mossville, Louisiana is a shadow of its former self – a community rich in natural resources and history, founded by formerly enslaved people, where neighbors lived in harmony, insulated from the horrors of Jim Crow.  Today, however, Mossville no longer resembles the town it once was.  Surrounded by 14 petrochemical plants, Mossville is the future site of apartheid-born South African-based chemical company Sasol's newest plant – a $21.2 billion project and the largest in the western hemisphere.
The community struggles to let go of their ancestral home – and at the center of it all is a man named Stacey Ryan.  Stacey is 48 years old and a lifelong resident of Mossville. In the past ten years Stacey has lost both parents to cancer and seen the neighborhood he grew up in demolished to make way for Sasol's new multi-billion dollar project.  He experiences these changes from the view of his parent's home, a FEMA trailer smack in the middle of where the new Sasol facility is being built – and he refuses to leave. Having promised his dying parents to fight the sprawling chemical companies, Stacey struggles to keep his word as his power, water, and sewage are all cut off, and his health continues to decline from ongoing chemical exposure. His dilemma is a moral one, too: he has a 5­-year-­old son living nearby with the child's mother that he wants to move out of state, yet for now, the pull of that promise to his parents keeps him living in the middle of a construction site.  As Sasol encroaches on citizens' property with buyout offers, Stacey and other community members have to decide whether to exist in a chemical war zone, or abandon land that has been in their families for generations.
This event is cosponsored by the Center for the Study of Southern Culture and the Oxford Film Festival.
Please note you will be able to screen the film April 2–9. The public talk is at 6 p.m. CST on April 5.
Apr
23
Fri
SouthTalks: Spring Documentary Showcase

@ Online
Apr 23 @ 12:00 pm – 1:30 pm
The Spring Documentary Showcase is a celebration of the work by our documentary students. Each artist will present their work followed by a Q&A session with questions from the audience.
Sep
10
Fri
Mississippi Creates

@ Old Armory Pavilion
Sep 10 @ 7:30 pm – 9:30 pm
Mississippi Creates: Annemarie Anderson, Kelly Spivey, and Schaefer Llana
The Center for the Study of Southern Culture and Yoknapatawpha Arts Council partner for the premiere of Mississippi Creates, an event that pairs musical performance with short documentary films, providing a glimpse into the creative life and environments of two local musicians: Tyler Keith and Schaefer Llana. This pair of films is part of a larger series that highlights artists and performers who have been influenced or inspired by the culture and sounds of Mississippi. The screening includes a live musical performance by Schaefer Llana and will be followed by a brief Q&A with the musician and film directors Annemarie Anderson and Kelly Spivey. This event is free to the public and open to all ages. Bring your own chairs and refreshments.
Annemarie Anderson is the oral historian for the Southern Foodways Alliance. She manages and conducts oral history work throughout the South. At age 10 Schaefer Llana moved from St. Louis, Missouri, to Batesville, Mississippi, where she learned to play piano and guitar. Kelly Spivey is a documentarian living and working in Memphis, Tennessee. She holds a BFA in photography from SCAD, and both an MA in Southern Studies and an MFA in Documentary Expression from the University of Mississippi.
Mississippi Creates is made possible by Cathead, the Center for the Study of Southern Culture, and the Mississippi Humanities Council. Doors at 7:30 p.m., show starts at 8 p.m.