Sep
12
Sat
Thacker Mountain Radio Hour

@ www.thackermountain.com
Sep 12 @ 7:00 pm – 8:00 pm

Diane Williams, author of The Life and Legacy of B.B. King: A Mississippi Blues Icon
Guest Musicians, Rev. John Wilkins and Dom Turner
Hosted by Jim Dees and TMR house band, The Yalobushwhackers
 The Thacker Mountain Radio Hour is a weekly live radio show featuring author readings and a wide array of musical performances. The show under normal circumstances is live from the square in Oxford, Mississippi and recorded and broadcast weekly. Due to Covid19, the broadcast will air on Saturday evenings this fall and can be heard on Mississippi Public Broadcasting at 7 p.m. and on Alabama Public Radio at 9 p.m. and rebroadcast on local WUMS the following Thursdays at 6 pm.
Listeners who miss the live radio broadcasts can listen back to the show from Thacker Mountain's archives available on their website www.thackermountain.com.
Host, Jim Dees will be in conversation with author and storyteller, Diane Williams. Williams calls herself a "narratologist." She is a professional performing artist/storyteller, teaching artist, author, poet and mixed-media fiber artist whose tapestries often tell stories. She is a retired director of grants for the Mississippi Arts Commission and currently serves on the Mississippi Humanities Council's Speakers Bureau. In this intimate portrait of B.B. King, author Diane Williams offers a brief account of the monumental blues man's life before settling in for a series of interviews with his bandmates and beloved family members, offering readers an invaluable opportunity to feel like they know King too.
In addition to this conversation, listeners will enjoy the sounds of the radio show's house band, the Yalobushwackers and guest musicians—Memphis-born, Mississippi-based spiritual blues scion Rev. John Wilkins and Australian guitarist, vocalist, and founding member of the Australian blues group, Backsliders, Dom Turner. This is event is a partnership between Thacker Mountain Radio Show and the Center for the Study of Southern Culture in celebration of Living Blues magazine's 50th Anniversary.
*No registration needed to tune into this radio show.
Feb
17
Wed
SouthTalks: "Masked Man, Black: Pandemic and Protest Poems"

@ Online
Feb 17 @ 12:00 pm – 1:00 pm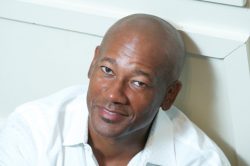 Frank X Walker will read from and discuss his latest collection of poems, Masked Man, Black: Pandemic and Protest Poems. The poems document in real time the myriad of challenges presented by the multiple pandemics of Covid-19 and racial injustice. They also offer edifying pockets of solace as the poet shares his family's survival tips, strategies, and discoveries in midst of so much loss, while properly laying blame at the feet of the administration that unnecessarily politicized, misled, and further complicated this country's response to the virus. University of Mississippi associate professor of English and African American studies Derrick Harriell will facilitate the Q&A portion of this event.
Frank X Walker is the first African American writer to be named Kentucky Poet Laureate. He has published eleven collections of poetry, including Masked Man, Black: Pandemic and Protest Poems and Turn Me Loose: The Unghosting of Medgar Evers, which was awarded the 2014 NAACP Image Award for Poetry and the Black Caucus American Library Association Honor Award for Poetry. Voted one of the most creative professors in the South, Walker coined the term "Affrilachia" and cofounded the Affrilachian Poets. He is the founding editor of pluck! The Journal of Affrilachian Arts and Culture and serves as professor of English and African American and Africana studies at the University of Kentucky in Lexington.
Derrick Harriell is the Otillie Schillig Associate Professor of English and African American Studies at the University of Mississippi. His poem collections are Cotton (2010), Ropes (2013, winner of the 2014 Mississippi Institute of Arts and Letters award in poetry), and Stripper in Wonderland (2017). His poems, stories, and essays have been published widely.
SouthTalks is a series of events (including lectures, performances, film screenings, and panel discussions) that explores the interdisciplinary nature of Southern Studies. This series is free and open to the public, and typically takes place in the Tupelo Room of Barnard Observatory unless otherwise noted. However, as a result of the current health crisis, all events will be virtual, free, and accessible on the Center's YouTube channel after each live event. Visit the Center's website for up-to-date-information about all Center events. Registration will be required for all events in order to receive the webinar link.