Sep
12
Sat
Thacker Mountain Radio Hour

@ www.thackermountain.com
Sep 12 @ 7:00 pm – 8:00 pm

Diane Williams, author of The Life and Legacy of B.B. King: A Mississippi Blues Icon
Guest Musicians, Rev. John Wilkins and Dom Turner
Hosted by Jim Dees and TMR house band, The Yalobushwhackers
 The Thacker Mountain Radio Hour is a weekly live radio show featuring author readings and a wide array of musical performances. The show under normal circumstances is live from the square in Oxford, Mississippi and recorded and broadcast weekly. Due to Covid19, the broadcast will air on Saturday evenings this fall and can be heard on Mississippi Public Broadcasting at 7 p.m. and on Alabama Public Radio at 9 p.m. and rebroadcast on local WUMS the following Thursdays at 6 pm.
Listeners who miss the live radio broadcasts can listen back to the show from Thacker Mountain's archives available on their website www.thackermountain.com.
Host, Jim Dees will be in conversation with author and storyteller, Diane Williams. Williams calls herself a "narratologist." She is a professional performing artist/storyteller, teaching artist, author, poet and mixed-media fiber artist whose tapestries often tell stories. She is a retired director of grants for the Mississippi Arts Commission and currently serves on the Mississippi Humanities Council's Speakers Bureau. In this intimate portrait of B.B. King, author Diane Williams offers a brief account of the monumental blues man's life before settling in for a series of interviews with his bandmates and beloved family members, offering readers an invaluable opportunity to feel like they know King too.
In addition to this conversation, listeners will enjoy the sounds of the radio show's house band, the Yalobushwackers and guest musicians—Memphis-born, Mississippi-based spiritual blues scion Rev. John Wilkins and Australian guitarist, vocalist, and founding member of the Australian blues group, Backsliders, Dom Turner. This is event is a partnership between Thacker Mountain Radio Show and the Center for the Study of Southern Culture in celebration of Living Blues magazine's 50th Anniversary.
*No registration needed to tune into this radio show.
Oct
29
Thu
SouthTalks: "Whose Blues? Black Bluesism, Blues Universalism, and the Postmodern Paradoxes of America's Global Music"

@ Online
Oct 29 @ 3:00 pm – 4:00 pm
Adam Gussow, Ken "Sugar Brown" Kawashima, and B. Brian Foster present "Whose Blues? Black Bluesism, Blues Universalism, and the Postmodern Paradoxes of America's Global Music" at 3 p.m. Thursday, Oct. 29.
In this live Q&A, Adam Gussow and Ken "Sugar Brown" Kawashima, a Korean-Japanese American bluesman highlighted in Gussow's book Whose Blues? Facing Up to Race and the Future of the Music, will be joined by Brian Foster, assistant professor of sociology and Southern Studies, for a conversation on Gussow's book. A prerecorded talk between Gussow, Kawashima, and Foster will be available on the Center's website by mid-October, and Foster will begin the live Q&A with prepared questions, then open it up to viewers.
Gussow's book Whose Blues? Facing Up to Race and the Future of the Music challenges us to think freshly about the blues in a postmodern moment, more than a century removed from the music's rural southern origins. If "blues is Black music," as some contemporary claimants insist, what should we make of the International Blues Challenge held annually in Memphis, with its all-comers mix of nationalities and ethnicities? If there's "no Black, no white, just the blues," as another familiar meme would have us believe, why do some Black blues people hear that proclamation not as a call to transracial fellowship, but as an aggressive attempt at cultural appropriation and the erasure of traumatic racial histories sounded by the music?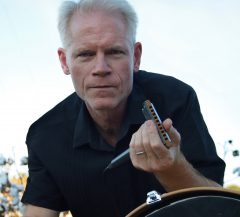 Adam Gussow is a professor of English and Southern Studies at the University of Mississippi and a professional blues harmonica player. He is the author of five books on the blues, including Mister Satan's Apprentice and Beyond the Crossroads: The Devil and the Blues Tradition. Satan and Adam, a documentary about his decades-long partnership with guitarist Sterling "Mr. Satan" Magee, is currently screening on Netflix.
Ken Kawashima is a professor of modern Japanese history and Marxist theory in the Department of East Asian Studies at the University of Toronto. He is author of The Proletarian Gamble: Korean Workers in Interwar Japan, co-editor of Tosaka Jun: A Critical Reader, and the English translator of Uno Kozo's Theory of Crisis. He is also a blues musician, singer, and composer known as Sugar Brown. He has released three albums of original blues music: Sugar Brown's Sad Day, Poor Lazarus, and It's a Blues World . . . Calling All Blues.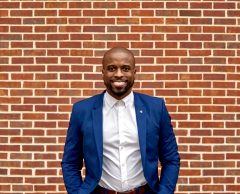 Brian Foster is an assistant professor of sociology and Southern Studies at the University of Mississippi. His work has appeared in the Washington Post, the Bitter Southerner, and Oxford Magazine. His first book, I Don't Like the Blues: Race, Place, and the Backbeat of Black Life, which focuses on race and community life in the Mississippi Delta, will be out December 2020.
SouthTalks is a series of events (including lectures, performances, film screenings, and panel discussions) that explores the interdisciplinary nature of Southern Studies. As a result of the current health crisis, all events will be virtual, free, and accessible on the Center's YouTube channel. Visit the Center's website for up-to-date information about all Center events. Registration will be required for all events.