Fall 2022 Showcase Nettles
-
-
-
-
-
Fall 2022 Showcase Nettles
Fred Nettles
"Gentle" Ben Williams: The Husband. The Grandfather. The Player. (Short Film)
"Gentle" Ben was a beloved figure by everyone from his time growing up in Yazoo City, MS in the 1960s, to being the First African American football player at the University of MS to play in 1972 and his ten year NFL career with the Buffalo Bills ('76-'86). My goal was to highlight the essence of who Ben Williams was as a person off of the gridiron. Capturing the perspective of his granddaughter and his former teammate in this project, I was able to get a sense of who "Gentle" Ben was as a leader of men on the field and a father to many off of it.
Cross the Railroads! (Photography)
"Cross the Railroads" is inspired by a combination of things. Very recently, I learned that Clarksdale was considered a sundown town by many of its residents. On one side of the railroad tracks, the Black residents felt safe and were away from most of the violence; whereas, when the sun set across the tracks, Black people weren't allowed on that side of town.
When scouting the locations and analyzing the pictures in detail, I wanted to capture the entire essence of Clarksdale, Mississippi past, present and future.
---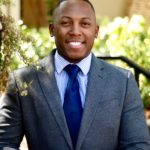 Growing up as one of fourteen children in Conway, MS, Fredderick Nettles' interest in Southern Studies is deeply personal and professional. Fredderick is a Graduate of the University of Mississippi with a Bachelors in General Studies. Since obtaining his degree, he has started a Production Company called "Segment Productions" where he serves as CEO and Executive Producer. Fredderick decided to return to school to pursue an MA Degree in Southern Studies with a focus in Documentary Expression.
Freddericks' plan for his thesis includes an in depth analysis of the history of Black Athletes in Mississippi and the impact their Mental Health have had on the people in their lives.
He will explore these themes through Film, Photography and Oral History.