Fall 2022 Showcase Bright
-
-
-
-
-
Fall 2022 Showcase Bright
Michelle Bright
SK8R Moms Get SK8 Done
SK8R Moms Get SK8 Done tells the story of the women/moms who helped get a world class skate park built in Hernando, MS. Skaters in the north Mississippi/Memphis area are familiar with the name Edward Pidgeon, for whom the Hernando skate park is named. Few know, however, about the moms who wrote the grants, organized the fundraisers, and used their clout to convince a local board of aldermen and mayor that skate parks can not only be wholesome, but also family-friendly places that can draw tourists and appeal to people considering moving to the area.
This short film centers on Miranda Williams, one of the three original founding members, and only woman member, of Hernando Skates, the non-profit organization that worked to get Pidgeon Park built. It also features the women (and moms) who helped her make the skate park happen and continue to help her expand the park and its benefits for the children of their community.
---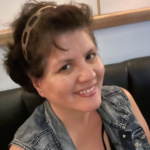 Michelle Bright has wanted to be a storyteller since she was old enough to understand what a story was. Like most rural Southerners, she comes from a long line of storytellers and wants to keep the tradition alive, while experimenting with different modes of sharing stories. She's worked as a written storyteller for almost twenty years, primarily through journalism, and has taught first-year writing for the University of Mississippi for over seven years. Her oral storytelling experience includes stand-up comedy, acting in theatre and film productions, collecting oral histories, and performing embodied storytelling. More recently with this MFA documentary program, she is stepping out of her comfort zone by trying visual storytelling. The oral storytelling traditions she inherited from her family remain her favorite, though.