Sep
22
Fri
Southern Studies 40th Birthday Party

@ Oxford Courthouse Square
Sep 22 @ 6:00 pm – 6:00 pm
The Center for the Study of Southern Culture had its first event in 1977, so we're planning a birthday event to celebrate forty years of Southern Studies. We will have a party on Friday, September 22 from 6pm to 8pm on the Oxford Square (1109 Van Buren Avenue).
All alumni, students, staff, faculty, and friends of the Center for the Study of Southern Culture are invited. Contact Ted Ownby hsownby@olemiss.edu with any questions.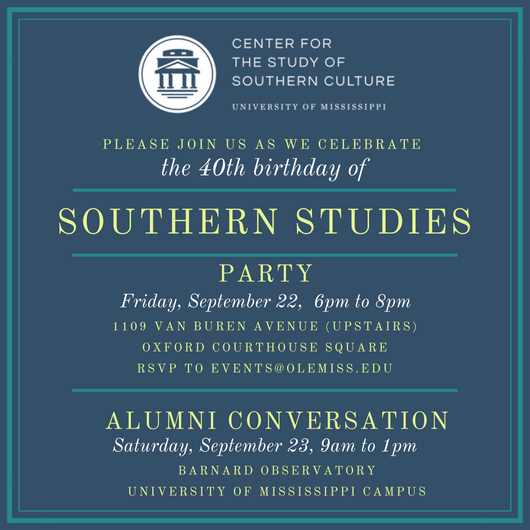 Sep
23
Sat
Southern Studies 40th Reunion Alumni Conversation

@ Barnard Observatory
Sep 23 @ 9:00 am – 1:00 pm
Discussions on Saturday will begin with one question: how do alumni continue to do Southern Studies in their numerous fields? How is Southern Studies part of their teaching, writing and reading, editing, documentary work, art and music, activism, their work in law, business, religion, government, restaurants, farms, libraries, and their personal, family, and community lives? We hope Southern Studies alumni will have intriguing answers to the question.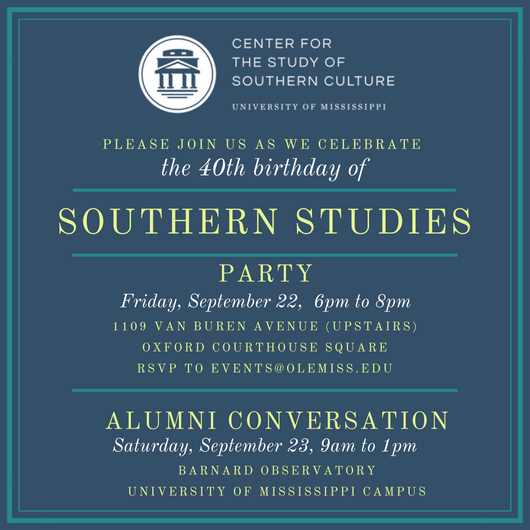 Subscribe to filtered calendar