Organized through the Center for the Study of Southern Culture, the African American Studies Program, Center for Civil War Research, and the Department of History, the Gilder-Jordan Speaker Series is made possible through the generosity of the Gilder Foundation, Inc.  The series honors Richard Gilder of New York and his family, as well as his friends, Dan and Lou Jordan of Virginia.
2015: Theda Perdue, University of North Carolina
On Wednesday, September 9 at 7pm in Nutt Auditorium, Theda Perdue of the University of North Carolina at Chapel Hill will present the 2015 Gilder-Jordan Lecture in Southern History. Her talk is entitled "Indians and Christianity in the New South."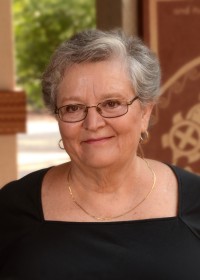 Theda Perdue is the Atlanta Distinguished Professor Emerita of Southern Studies at the University of North Carolina, Chapel Hill, where she taught American Indian history in the history, women's studies, and American studies departments. She holds a Ph.D. from the University of Georgia. Perdue is author, co-author, or editor of sixteen books including Cherokee Women: Gender and Culture Change, "Mixed Blood" Indians: Racial Construction in the Early South, and Race and the Atlanta Cotton States Exposition of 1895. She also has appeared frequently as a talking head in documentary films. She has held fellowships from the Rockefeller Foundation, the Newberry Library, the National Humanities Center, the Woodrow Wilson Center, and the John Simon Guggenheim Foundation. Perdue has served as president of the Southern Association for Women Historians, the American Society for Ethnohistory, and the Southern Historical Association. She is an inveterate traveler, especially by train, and in 2009 she and her husband went around the world by land and sea, a trip that included crossing Europe and Asia by train and the Pacific by freighter. Her current book project is on American Indians in the segregated South.
2014: Jacquelyn Dowd Hall, University of North Carolina
Dr. Hall's lecture, "How We Tell About the Civil Rights Movement and Why It Matters Today," was September 24 at 7pm in Nutt Auditorium on the UM campus.
2013: Walter Johnson, Harvard University
"The 'Negro Fever,' the South, and the Ignominious Effort to Re-Open the Atlantic Slave Trade"
Watch an interview of Dr. Johnson by UM Assistant Professor of History Dr. Deirdre Cooper Owens here.
2012: Grace Elizabeth Hale, University of Virginia
"So the Whole World Can See: Documentary Photography and Film in the Civil Rights Era"
Watch an interview of Professor Hale by UM Professor of History and Southern Studies Dr. Ted Ownby here.
2011: David Blight, Yale University
"American Oracle: The Civil War in the Civil Rights Era and Our Own Time"
Watch the 2011 lecture in full or watch an interview of Dr. Blight by UM Professor of History Dr. John Neff here.
2010: Barbara J. Fields, Columbia University
"Racecraft and Southern History"