About the Gallery
The Gammill Gallery is located in the west wing of Barnard Observatory. Named for Lynn and Stewart Gammill of Hattiesburg, Mississippi, longtime supporters of Southern Studies at the University of Mississippi, the Gammill Gallery hosts a variety of exhibitions devoted to documentary photography of the American South.
The Gammill Gallery has featured the work of numerous photographers, including Bern and Franke Keating, Birney Imes, Jack Kotz, Todd Bertolaet, David Wharton, Wiley Prewitt, and Jane Rule Burdine. Each year, the Gallery exhibits works produced by students in the Southern Studies program.
The Gammill Gallery is open Monday through Friday, 9:00 a.m. – 5:00 p.m., except for University holidays. For more information, contact us.
Current Exhibit: ANDREA MORALES
Roll Down Like Water
Photographs from Memphis by Andrea Morales
On view at the Gammill Gallery from April 16 – May 17.
YAC Art Crawl reception 6-8 p.m. on Tuesday, April 23.
"Now, let me say as I move to my conclusion that we've got to give ourselves to this struggle until the end. Nothing would be more tragic than to stop at this point in Memphis. We've got to see it through." Dr. Martin Luther King, Jr. in his "I've Been To The Mountaintop" speech on April 3, 1968, the day before he was killed in Memphis.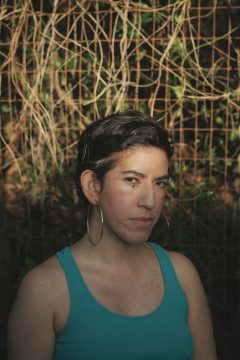 Roll Down Like Water is a collection of excerpts from an ongoing photographic body of work focused on Memphis, Tennessee today in the everyday, five decades after the assassination of Dr. Martin Luther King, Jr. at the Lorraine Motel. Memphis, a majority black city with boundaries carved by the Mississippi River and positioned at the gates of the Delta South, swells with a light from the people. In his Mountaintop speech at Mason Temple, Dr. King asked Memphians to "redistribute the pain" of those suffering in the community, like the striking sanitation workers who he was there to support. He invoked Amos when he asked that "Let justice roll down like waters and righteousness like a mighty stream." The photographs search the contours of the city's everyday landscape that reveal glimpses of memory toward that call in the struggle against racist systems.

The YAC April Art Crawl will stop in Barnard Observatory to give people the opportunity to view her photos on Tuesday, April 23 from 6 to 8 p.m. 
Andrea Morales (b. 1984, Lima, Peru) is a documentary photographer based in Memphis and producer at the Southern Documentary Project. Her work seeks to create space away from binaries and with a gaze toward justice. She grew up in Miami, earned a B.S. in journalism with a certificate in Latin American Studies from the University of Florida and an M.A. in visual communication from Ohio University. Working as a photojournalist for different newspapers moved her to cities and newsrooms of all size for nearly a decade, including the El Sentinel in South Florida and The New York Times before landing in Memphis.