About the Gallery
The Gammill Gallery is located in the west wing of Barnard Observatory. Named for Lynn and Stewart Gammill of Hattiesburg, Mississippi, longtime supporters of Southern Studies at the University of Mississippi, the Gammill Gallery hosts a variety of exhibitions devoted to documentary photography of the American South.
The Gammill Gallery has featured the work of numerous photographers, including Bern and Franke Keating, Birney Imes, Jack Kotz, Todd Bertolaet, David Wharton, Wiley Prewitt, and Jane Rule Burdine. Each year, the Gallery exhibits works produced by students in the Southern Studies program.
The Gammill Gallery is open Monday through Friday, 9:00 a.m. – 5:00 p.m., except for University holidays.  For more information, contact us.
Current Exhibit: Rachel Boillot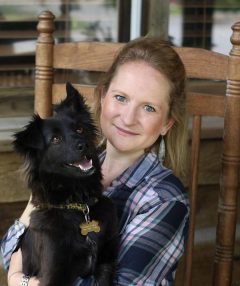 Moon Shine is a collection of photographs by Rachel Boillot that focus on the unique musical traditions of the Cumberland Plateau. This region is home to a rich storytelling heritage, showcased in historic fiddle tunes, balladry, religious gospel pieces, and other songs passed down as part of a formidable oral tradition. Today, this old-time tradition is threatened by the limitations of a twenty-first century attention span and the popularity of commercial music. This project celebrates the creative impulses within the Cumberland Plateau and seeks to document its disappearing traditions. Boillot's photographs will exhibit in Gammill Gallery in Barnard Observatory from March 4 to April 12.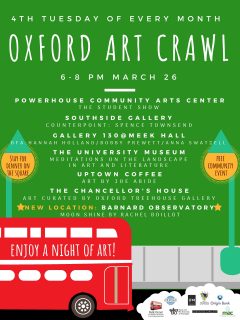 The YAC March Art Crawl will stop in Barnard Observatory to give people the opportunity to view her photos Tuesday, March 26 from 6 to 8 p.m. Boillot will lecture at 4 p.m. Thursday, April 11 in the Tupelo Room in Barnard Observatory, as part of the Visiting Documentarian Series. A reception will follow. Later that evening, at 7:30 p.m., the Malco, located at 1111 Jackson Ave., will show Rachel's film In That Valley of Gold (66 minute run time).
Rachel Boillot is a photographer, filmmaker, and educator based in Nashville, Tennessee. Her work explores American culture and narrative traditions. She holds a BA in sociology from Tufts University, a BFA from the School of the Museum of Fine Arts, and an MFA in experimental and documentary arts from Duke University.
Her first monograph Moon Shine: Photographs of the Cumberland Plateau will be published by Daylight Books in April 2019. She recently joined the team at the Kentucky Documentary Photography Project and currently teaches at Belmont University.