Written by Jackson Olstad    
A true hero is defined by virtue and accomplishments, and role models give people their own identity and moral compass for life. Zaire Love will educate the Oxford community on two influential figures in Southern history that everyone can look up to at her upcoming TEDx talk.
The TEDx University of Mississippi returns for its fourth installment 6 p.m. Wednesday, March 6 at the Gertrude Ford Center for the Performing Arts. Tickets are available for $10. Love is one of eight speakers presenting an 18-minute talk encapsulating the conference's theme of Ideas Worth Spreading.
Love's presentation will document the lives of Fannie Lou Hammer, a civil rights activist from Montgomery County, Mississippi, and the international pop singer Beyoncé Carter Knowles, through biographies and the work both have given to the world. Love hopes to connect with audiences of all ages by describing two southern black women who have impacted society in different generations.
"Beyoncé and Fannie Lou Hamer are the perfect combination of relevance, activism, and representation," Love said. "I've been on this quest to establish honor, respect, and amplification to the stories, narratives, and lives of black folk in the South, particularly black women."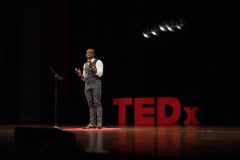 Love will describe how both women embraced their race, class, gender, and region as global icons while breaking down preconceived notions of their role in society. Her talk will describe how the two women's vernacular, accents, hair, and ownership of the being from the South are pieces of identity they expressed and embraced as influential leaders.
By submitting a video explaining her research and passion for the topic, Love was selected to join the TEDx University of Mississippi. Love is pursuing a Master of Fine Arts degree in Documentary Expression at the University of Mississippi's Center for the Study of Southern Culture.
Love credits the Center's openness to diversity, giving her confidence to explore an issue she is excited to share with the world.
"Zaire hit the ground running when she entered the program last fall," said Kathryn McKee, who serves as Associate Professor of Southern Studies and Graduate Student Advisor for the program. "The voices that interest her as a storyteller are not the ones that have always been heard or listened to."
For more information on Love and other TEDx University of Mississippi speakers, or to purchase tickets, visit https://www.tedxuniversityofmississippi.com