Living Blues #276 features vocalist Sugaray Rayford on the cover. Texas-born former Marine Rayford stands 6'5" and has a commanding stage presence. His career has been ascending for the last 20 years and, with a new CD about to drop, he is ready to hit the ground running post-COVID.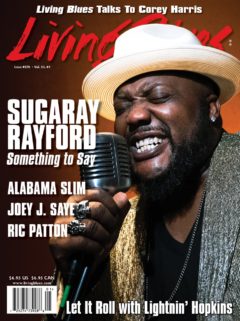 Eighty-two-year-old Alabama Slim has been part of the down-home New Orleans blues scene since Hurricane Betsy in 1965. The cousin of Little Freddie King, Slim has worked with Music Maker for nearly 25 years and his 2021 release, The Parlor, drew critical acclaim. The blues story of 28-year-old guitarist, vocalist, and songwriter Joey J. Saye is still unfolding. The son of Liberian immigrants, Saye is a fresh, new voice on the Chicago blues scene.
This issue's Let It Roll features Texas guitarist Lightnin' Hopkins. Lightnin' Hopkins is one of the greatest bluesmen of all time, but by the late 1950s his commercial recording career had ground to a halt. Enter music historian and writer Sam Charters, who learned of Hopkins' whereabouts and headed to Houston to record him. The result, after getting Hopkins' guitar out of a pawn shop, was the classic 1959 Folkways Records release Lightnin' Hopkins, which brought Hopkins to the attention of a whole new audience.
All of this plus the latest in Blues News, Breaking Out with Ric Patton, LB Talks to Corey Harris, over 50 record reviews, and the Living Blues Radio Charts!
Digital and print subscriptions to Living Blues start at just $18 and can be purchased at www.livingblues.com.