This article originally appeared in the Fall 2015 Southern Register. Read the full Register here. Sarah Radford wrote the first section of the article about Margaret Gaffney.

The Center Welcomes Three New Faces This Fall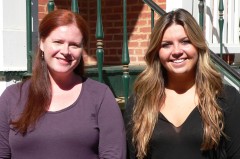 Those who have attended the Center's weekly Brown Bag Lecture Series and other events in Barnard Observatory over the years will now be greeted by a new receptionist—one who may, in fact, be recognizable. In early September, Margaret Gaffney joined the Center staff as its new staff assistant.
For Gaffney, moving to Oxford was not about leaving home, but about returning to the place she considered her childhood hometown. She moved around a lot as she grew up, but she always found herself connected to Oxford. Her stepfather teaches in the UM English Department, and her mother, an author by trade, worked at Square Books for several years. Margaret, too, worked at Square Books for a bit, and it was there she was first introduced to the Oxford Conference for the Book.
After college, Gaffney returned to Oxford and worked at the City Grocery, a local restaurant owned by chef John Currence. It was during this time, she learned about the Southern Foodways Alliance, while catering an event for the fall symposium. Gaffney found herself leaving Oxford once more for New York City, and she later worked in the television and film industries, which took her all over the country.
Gaffney developed a great love for documentaries while working for a PBS series called Dance in America. She sees this genre of film as a powerful means of storytelling.
The Center offers Gaffney connection to her love of this type of storytelling through its emphasis on documentary studies. Since arriving, Gaffney's favorite part of working at the Center has been speaking with the graduate students about their studies and working on projects with her two work-study students.
Mary Hartwell Howorth held Gaffney's position for two decades before retiring this past spring, and she and Gaffney are longtime family friends. "I'm certainly not the 'new Mary Hartwell,'" said Gaffney. "There can never be another Mary Hartwell. She's irreplaceable."
For now, Gaffney is happy to go by the informal title for her position: "Secretary."
Sarah Radford
---
In addition to Margaret Gaffney, the Center welcomes two new part-time work-study students, Sarah Radford and Helanna Salinas, to Barnard Observatory.
To Radford, the University of Mississippi is quite different than what she experienced growing up. Besides the weather, UM is a nearly completely different culture compared to the suburbs of Chicago, but somehow, the university still gives her that feeling of home. Radford wanted to attend UM—nearly ten hours away from home—mainly to experience a different culture. And that is exactly why the Center is such a perfect fit as she enters her junior year. The Center has given her a sense of what Southern culture means, beyond dressing up for football games. "My favorite part of the Center is the people. Everyone is so warm and welcoming, proving that Southern hospitality is a true part of the culture down here," she said. Radford is studying secondary education, and hopes to one day teach high school math back in Chicago, despite the weather.
Growing up in Houston, Texas, the University of Mississippi was still far away from home for freshman Helanna Salinas. However, she chose the school because, despite the distance, UM felt like home. Salinas is majoring in biology and on the premed track. Even with a heavy course load, she still finds time to minor in psychology and chemistry and work at the Center. Her favorite part? She, too, says it is the people. "Everyone is welcoming and it is a great atmosphere to work in," said Salinas.