In this post, originally published in the Fall issue of the Southern Register, first year students Kate Wiggins and Caity Maddox introduce themselves and their classmates. You can read the full Southern Register here.
Southern Studies Grad Students Introduce the New First-Year Class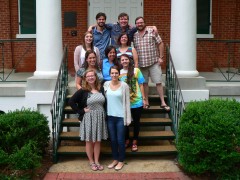 The members of the 2017 MA cohort have never met a stranger—including each other. Our fast bond stems from shared appreciation of Southern music, happy hour, and good food. We're excited to spend the new two years collaborating with each other, especially considering the wide range of backgrounds we bring to the table. Here, we introduce ourselves and our favorite songs, in the hope that you will join us for a karaoke night out.
Rebecca Lauck Cleary earned her bachelor of arts degree in journalism from the University of Mississippi, which came in handy as editor of Oxford Town magazine and as a communications specialist in UM's Department of Media and Public Relations. As the senior staff assistant at the Center, she decided to embrace her inner student and pursue her MA in Southern Studies because she remembered why, ideally, we take classes in the first place: not to affirm what we already believe, but to challenge and change us. Oxford's small-town charm, big-time culture, and love of all things literary keeps her rooted here, although she enjoys traveling as often as possible to see live music. Although a struggle to choose, Rebecca's favorite karaoke song is "Are You Gonna Go My Way" by Lenny Kravitz.
Molly Conway was born and raised just outside of Grand Rapids, Michigan. Her father's job relocated the family to Ridgeland, Mississippi, in 2007, where she attended high school. It took a little adjustment, but Molly fell in love with the South. She earned her BA in American history at Mississippi College, where she focused on gender roles in the Old South. She is currently a graduate assistant for the Ole Miss First scholarship program where she mentors several undergraduates in pursuit of their degrees. She plans to use her Southern Studies degree for museum curatorship. Because of her love of the movie Top Gun, her favorite karaoke song is "You've Lost That Loving Feeling."
Drew Ford was born and raised in Little Rock, Arkansas. She received her BA in political science from the College of Charleston. She spent the last year serving as an AmeriCorps VISTA member focusing on child hunger and nutrition. In her free time Drew enjoys taking road trips, absorbing useless pop culture, and eating great meals with friends. Her favorite karaoke song is anything that makes the whole place sing along. (We feel this is a cop out, but we'll let it slide.)
Originally from Madison, Mississippi, Josh Green first attended the University of Virginia in pursuit of an engineering degree before transferring to the University of Mississippi in 2005. After this change in venue, along with several additional changes in majors, Josh ultimately graduated from the University of Mississippi in 2008 with a BA in history and classics. Likely inspired by his undergraduate thesis work, which focused in part on alcohol and the repeal of prohibition, Josh opted to relocate to New Orleans, Louisiana, where he obtained a law degree in 2012 from Tulane University. After several years of practicing law in New Orleans, Josh has decided to return to Oxford to pursue a masters in Southern Studies, where he plans to concentrate on Southern history (although he is also encouraged by his classmates' shared passion for "alcohol studies.")
Abby Huggins grew up in North Carolina and earned a BS in elementary education from Appalachian State University. She has worked with community based nonprofits and sustainable farms in Grenada (West Indies), Alaska, and North Carolina. She gratefully enters the world of Southern Studies with an interest in culture, food, and oral history. Her favorite karaoke song is a toss-up between "Don't Stop Believing" and "Total Eclipse of the Heart," naturally.
Frank Kossen, a native of Jackson, Mississippi, enjoys traveling, seeing live music, and (thankfully) reading. His other hobbies include plate lunches, collecting refrigerator magnets, dancing barefoot in the grass, and cheering on the Rebels and the Saints. His obsession with Christmas music borders on unhealthy, resulting in a yearly mixed CD of holiday tunes for family and friends. He prefers the Stones over the Beatles, truck stops over strip malls, and byways over highways, but can't decide between sunshine and moonlight or Muddy and the Wolf. He is also a newlywed, having improved his station by marrying a Tarheel at the end of the summer. His favorite karaoke tune is "The Gambler" by Kenny Rogers.
Born to a New York mother and a Mississippi father and raised in Memphis, Tennessee, Caity Maddox has always dreamed of combining her love of teaching and period costumes into a career. She received a BA in history and a BS in social studies education from Mississippi State University. While in Starkville, Caity—who registered to vote at midnight on her eighteenth birthday—became fascinated with antisuffragist women and the Southern fight against the Nineteenth Amendment. After a lifetime of cheering against the Rebels, Caity made the courageous decision to continue her education at the University of Mississippi. When she is not organizing her cowbell collection, Caity enjoys traveling as much as she possibly can and showing off her canine best friend, Ari. An avid fan of all things area code 901, her favorite karaoke song is "Walking In Memphis."
George McDaniel was born in Memphis, Tennessee, and raised in Summerville, South Carolina, with a few years spent in Atlanta, Georgia, in between. He was brought up in a household full of music and has a deep love and appreciation of music of all kinds. In high school, he saw a video of Stevie Ray Vaughan and has been a guitar player ever since. He graduated from Davidson College in 2005 and has been playing music in bands for the past ten years. He is very proud to have released a fully realized album this past May with his band, the Shutter Dogs. He encourages everyone to check out the band's album, Better Days, on iTunes and Spotify. He is excited to be a part of the Southern Studies program and looks forward to the semesters ahead. George's favorite karaoke song—and personal anthem—is "Ramblin' Man" by the Allman Brothers.
Lauren Veline graduated from the University of South Carolina with a BA in advertising and a minor in Southern Studies. The combination of advertising, Southern Studies, and being from the Charleston area helped her develop an interest in tourism and branding in the South. In her free time she enjoys collecting records and useless information, and being the brunt of jokes about her undergraduate mascot. (Go Gamecocks!) After much prodding, Lauren has finally admitted that her favorite karaoke song is "Achy Breaky Heart" by Billy Ray Cyrus.
Kate Wiggins is a sixth-generation North Carolinian and has a BS in business from the University of North Carolina at Chapel Hill. Most recently, she spent nine years as owner and operator of a coffee shop and bakery in downtown Bozeman, Montana. She was giddy to learn that the Center and the Southern Foodways Alliance were telling stories of preparing and sharing food—two things she finds inspiring. She decided to re-enter academia to study her native region's foodways and learn to tell those stories herself. Kate enjoys skiing, hiking, reading, and hanging out with her dog, Julia Sugarbaker. Her favorite karaoke song is "Proud Mary"—Tina's version, of course.
Our happy hours are open invitation and a good time from start to finish. If you're lucky enough to catch us on a patio, you might even get to meet the four-legged members of our class. We look forward to spending the next few years exploring Oxford and the South.
Kate Wiggins and Caity Maddox