Below, a description of the new issue of Living Blues by editor Brett J. Bonner.  See livingblues.com for subscription information.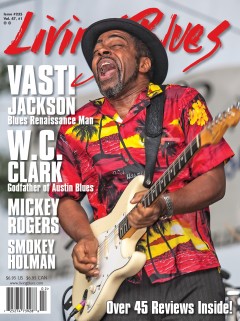 This issue's cover story is on McComb, Mississippi–native Vasti Jackson. Jackson is a real blues Renaissance man—skilled at nearly every facet of the music industry. Vasti is a guitarist (electric and acoustic), vocalist, songwriter, actor, educator, front-man, side-man, bandleader, arranger, session musician, label owner and producer. He can focus like a laser and knows how to get the job done no matter what is placed in front of him. Jackson sat down with LB this summer for his first full feature with us.
W.C. Clark is affectionately known as the "Godfather of Austin Blues," a name he earned through decades of playing and mentoring in the Austin music scene. Clark is perhaps best known for the group of young teenagers and twenty-somethings he worked with back in Austin in the late-1970s. Musicians Lou Ann Barton, Angela Shrehli and brothers Jimmie and Stevie Ray Vaughan all worked with Clark and learned from him. Perhaps his greatest influence was on the young Stevie Ray Vaughan, who asked Clark to join his band in the late 1970s. Our feature includes some never-before-published photos from this time period with the young guitar phenom still cutting his teeth.