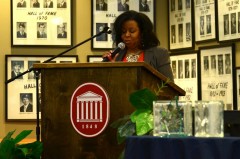 Assistant Professor of Sociology and Southern Studies Dr. Barbara Harris Combs has a new article in Critical Sociology exploring the construct of place and its role in race relations, specifically recent changes in voting rights laws.  Dr. Combs will teach a cross-listed African American Studies / Southern Studies course on Race, Place, and Space this spring.
People on university campuses can likely access the article through your library database. Here's the page for Critical Sociology.  If you don't have university access and would like to read the article, let me (Becca, rwalton@olemiss.edu) know and we'll pass it along.
Here's the abstract:
The construct of place has largely been under-utilized, and, therefore, under-theorized, in social science discussions regarding systematic racial oppression, but we need to consider physical space or symbolic (i.e. social/political) place in our ideas about both racial identity formation and racial relations. During the Jim Crow era, blacks were expected to 'stay in their place', and that place was always subservient to the position of whites. Despite advances by racial/ethnic minorities and other disadvantaged groups, vestiges of this American Jim Crow belief system still operate in society. The author contends that recent widespread voter suppression efforts commencing en masse since 2010 are not a rejection of black bodies per se but a response to perceived black (and brown) bodies out of place. The article provides a framework to help illuminate the presence of continued systematic pushback against the advances of minorities amidst a growing discourse of colorblindness.