This article appeared in the Fall 2016 Southern Register.
Meet our First-Year MA Students!
This year's incoming class of graduate students includes two international students and others from all areas of the United States. They have a wide variety of backgrounds and ideas, but all share a common interest in the South.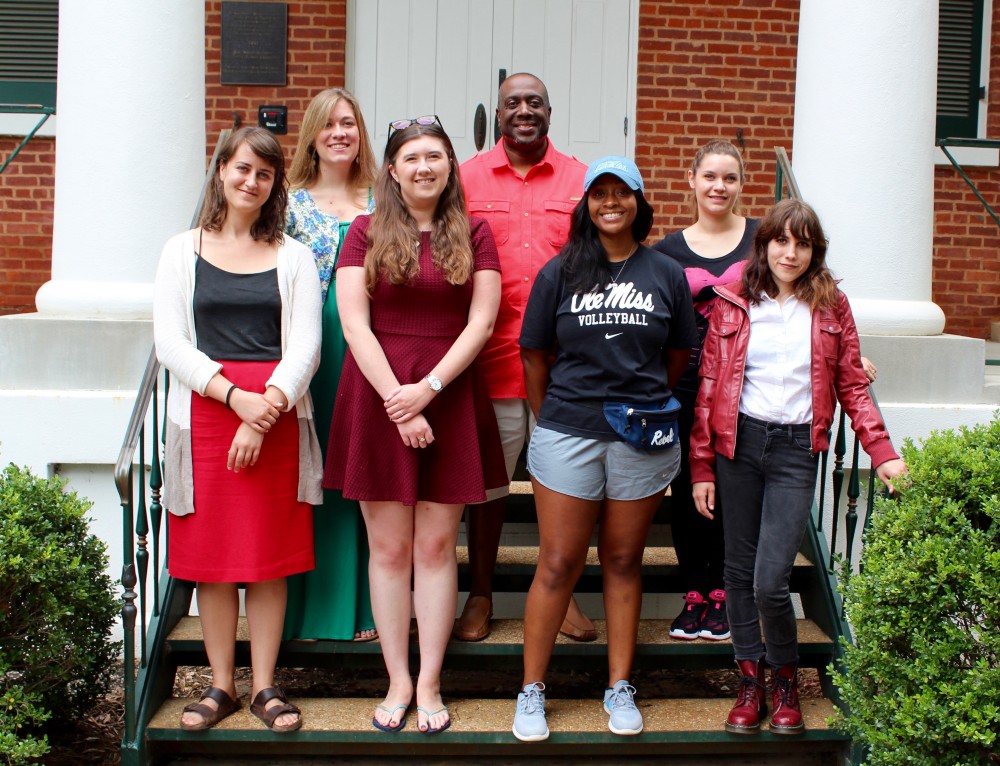 Rachel Childs was convinced to pursue her MA in Southern Studies after volunteering at the Southern Foodways Alliance's 2015 fall symposium. She holds a BA in English-writing from Berry College. Childs recently spent four years in Boston as a developmental editor for textbooks and professional resources at Macmillan Learning. A metro-Atlanta native, she is delighted to be back below the Mason-Dixon line, where grocery stores carry pimento cheese.
Victoria De Leone grew up in Sisters, a small mountain town in Central Oregon. She fled the small town life after high school, landing at New York University. After defending her thesis on immigrant foodways and literature, she stuck around Brooklyn to work as a community manager for a tiny food startup. After a year of moving too often and a handful of cross-country road trips, she decided she was tired of subways and headed south. She is now a Graduate Fellow at the Southern Foodways Alliance.
Don Harvey is returning to Mississippi after a thirty-five-year absence. Born in Biloxi and raised in Hattiesburg, Don graduated from Mississippi State University in chemical engineering in 1971. His federal career in occupational safety and health began in Jackson, Mississippi, and his career later took him to Kentucky, North Carolina, Maryland, and Washington, D.C. While in Maryland, he completed his masters of health science in environmental heath science at Johns Hopkins University in 1999. He retired from federal service in 2011. After moving to Northwest Arkansas, he spent many weekends traveling to blues festivals around the South. His abiding interest in blues music led him to the Center for the Study of Southern Culture.
Kevin Mitchell earned both his AOS in culinary arts and his BPS at the Culinary Institute of America. Through his passion for food culture, the preservation of Southern ingredients, and the history of African Americans and food, he decided to pursue his MA in Southern Studies where he will work with the Southern Foodways Alliance. He is a fan of the mission of the Slow Food organization and hopes to bring a chapter here to Oxford. In his spare time you can find him in the kitchen, of course, working on recipes that showcase the Gullah culture. You can also find him sipping on bourbon and enjoying a cigar while listening to music or flipping through the latest cookbook.
Elise Potentier landed on American ground on August 11, 2016, at 4:39 p.m. She was born and raised in a small town located about an hour from Paris, and spent most of her life there. When her parents suggested, as a joke, that she should spend a year abroad, she took their words very seriously and joined an international school in Bournemouth, England, where she earned a degree in English. She chose to come to the University of Mississippi in order to have the chance to travel again and to write a thesis about country music. She fell in love with country music several years ago, starting with Taylor Swift, who led her to many other singers and groups such as Alan Jackson and Brad Paisley.
Holly Robinson is the latest Brit to cross the pond on behalf of the British Association of American Studies. She recently completed her English with Study in North America BA at the University of Exeter and spent a year at Vassar College in New York. She first discovered Southern Studies when learning about the effect that spectacle lynching had on the commodification of slavery. She adds Southern Studies to her repertoire of women's studies, American studies, Jewish studies and disability studies. When she isn't fighting about the importance of popular culture, or listening to Taylor Swift, she can be found at home critically analyzing her favorite crime show, NCIS.
Born and raised in Jackson, Mississippi, Je'Monda Roy recently graduated with a BA in English with a Southern Studies minor from the University of Mississippi. Being the first to graduate college in her family she's constantly asked to help with assignments for younger siblings and various family members. Je'Monda is interested in anything related to food and Netflix. She is also very interested in sports, and she serves as the manager for the Ole Miss volleyball team.
Jacqui Sahagian was born and raised in a village in rural Michigan, a place she hopes to never see again. She thinks her hatred of the Midwest might have something to do with her obsessive love of all things Southern. After finishing an undergrad English degree at the University of Michigan, Jacqui moved to Nashville to write for music publications. While living in Nashville she fell in love with the South and music writing, and decided she wants to study Southern music in all its incarnations. She plans to do thesis work on gender and violence in Delta blues, and is also interested in the history of local Oxford record label Fat Possum. In her free time Jacqui can be found reading and smoking outside coffee shops, back in Nashville at her boyfriend's gigs, or at home with her two cats, Evangeline and Artemis.