Maarten Zwiers on James O. Eastland and Teaching the South in the Netherlands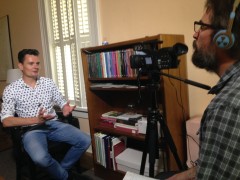 We're starting an occasional series of interviews of visiting speakers at the Center by Southern Studies grad students who are working with Dr. Andy Harper and the Southern Documentary Project. These interviews will explore a scholar's inspiration to pursue a particular line of research and their experiences teaching courses on the American South in different contexts.
Our first interview was done by second year MA student Christopher Colbeck, who spoke with Dr. Maarten Zwiers after his Brown Bag lecture on 1970s politics and culture in the South on November 4.  Zwiers, himself a graduate of the Southern Studies MA program, is now an Assistant Professor of History at the University of Groningen. He published Senator Jim Eastland: Mississippi's Jim Crow Democrat with LSU Press in June 2015.
Watch the interview below.
Dr. Maarten Zwiers on his research. from The Southern Documentary Project on Vimeo.