The Brown Bag Lecture Series continues Wednesday, Sept. 23 with John Bullion, professor of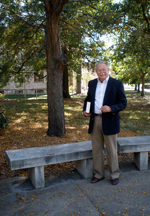 history at the University of Missouri.
His lecture is titled "Segregation or Pork?  Lyndon Johnson, Civil Rights, and the Democratic Party in the South, 1964-1966." Bullion became interested in Lyndon Johnson 15 years ago, and the published a memoir of his family's dealings with LBJ, "In the Boat with LBJ" (Republic of Texas Press/Rowman & Littlefield, 2001).  He is also the author of  "Lyndon B. Johnson and the Transformation of American Politics" in the Library of American Biography Series (Pearson/Longmans, 2008).  Most recently he is the author of a chapter on constitutional issues of the Johnson presidency in "The Presidents and the Constitution: A Living History" (NYU, February, 2016).
Bullion has also published extensively on British politics and the origins of the American Revolution. A collection of his essays on this topic, "George III, National Reform, and North America," was published by Mellen Press in 2013.
He earned his B.A. from Stanford University, and his M.A and Ph.D. from the University of Texas-Austin.
Brown Bag Lectures take place on select Wednesdays during the fall and spring semesters in the Tupelo Room in the west wing of Barnard Observatory. Brown Bags last one hour and are free and open to the public. The next lecture is set for Oct. 14 with Angela Pulley Hudson.