We've discussed Dr. Jodi Skipper's work on the Behind the Big House project on the blog before. Here, news of a much-deserved honor for Dr. Skipper.  This article, by Center intern Emily Beene, appears in the Spring 2015 issue of the Southern Register.
Assistant Professor of Anthropology and Southern Studies Honored with Award of Merit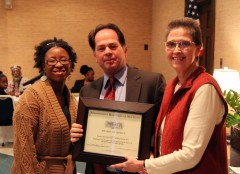 Jodi Skipper earned this year's Award of Merit to Preserve Marshall County and Holly Springs by the Mississippi Historical Society. Skipper received the award March 7 at the annual meeting of the Mississippi Historical Society in Corinth. The award is presented to individuals or organizations to showcase and honor their outstanding archival, historical, museum, or records management work.
Skipper received the award for her work with the Behind the Big House Project in Marshall County. The project is a part of Preserve Marshall County and Holly Springs, an organization formed in 2005. Promoting historic preservation and giving the community the opportunity to volunteer through education outreach efforts is the mission of the organization. The Behind the Big House Project aims to educate visitors on the history of the slaves and their living areas and conditions by taking the focus off of the main plantation house and exploring the housing of the slaves who served the families. By doing so, visitors gain insight into the slaves' lives. Tours are given to visitors during the Holly Springs Pilgrimage of Homes, an annual event that showcases the city and takes a step back in time to the pre–Civil War era.
The key to the project is preservation of all history, not just the grandeur and glamor of the antebellum homes. Visitors are given a look behind the scenes, literally, by touring former slave dwellings that have survived throughout the years and illustrate the grave distance between the privileged whites and the enslaved African Americans. One look at the hollow, cramped dwellings in comparison to the five vast sprawling mansions that are also on the Holly Springs homes tour and onlookers can better understand the physical, social, and cultural gap that was placed between slaves and slave owners at this time.
The award is one of the 11 different awards given each year by the Mississippi Historical Society, with the Merit Award focusing on work on the historic preservation of an area. The Mississippi Historical Society was founded in Jackson, Mississippi, in 1858 and plans to publish 15 books that contain the detailed history of the state in 2017.