This article originally appeared in the Winter issue of the Southern Register. Read the full issue here.
Grad Students Design a New Display at Rowan Oak Featuring Faulkner's Nobel Prize Speech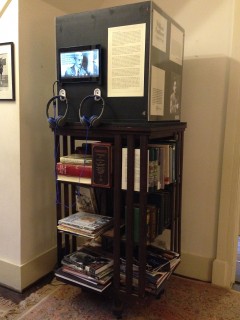 A new display at Rowan Oak features William Faulkner's Nobel Prize speech. Southern Studies graduate students Amanda Malloy and Katie Gill designed and installed the display. English graduate student Sarah Altenoff provided technical assistance on the project.
The new display allows visitors to listen to the speech on a tablet while viewing a short video of historic photographs of Faulkner receiving the award. The entire speech is also in printed form next to the display. "This display is a noticeable improvement over how we interpreted the speech in the past," said William Griffith, curator of Rowan Oak. It provides historical context of the speech while implementing a modern display method, similar to how Faulkner approached his novels.
The 1950 Nobel Prize speech was William Faulkner's first public address. Although Faulkner gave the speech in 1950, he won the award for 1949. Bertrand Russell won the award in 1950 and gave his speech following Faulkner. Faulkner's original speech was twice as long but he threw away the last two pages an hour before the ceremony began.
Southern Studies graduate student Amanda Malloy has worked at both Rowan Oak and the University Museum as part of her graduate assistantship. She is originally from Michigan and is scheduled to graduate in May of 2016.
Southern Studies graduate student Katie Gill has also worked as an intern at the University Museum in the Greek and Roman collection. Gill is a native Mississippian from the Jackson area and will graduate in May of 2016.