This post was written by second year grad student Sophie Hay, who will defend her internship project in a few weeks, for students who were recently admitted to the Southern Studies MA program.
Just received an offer to join the Southern Studies M.A. program?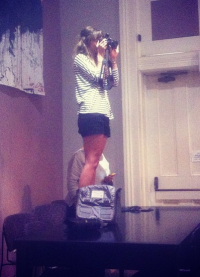 If you've recently received an offer to join the Southern Studies M.A. program at the University of Mississippi, huge congratulations are in order! Well done on your success! I'd like to take this opportunity to offer you a big warm welcome on behalf of everyone at the Center for the Study of Southern Culture.
While the hard work (for now at least…!) is behind you, there are several things you'll need to do before you arrive in Oxford ready to start your graduate school career. To help you prepare, I've put together a to-do list with some tips that I hope you'll find useful.
If you haven't already secured a Graduate Assistantship, now is the time to hunt one down! Assistantships are a form of financial aid, whereby the Graduate Assistant (GA) typically works for a department or agency on campus in exchange for a stipend, partial or full tuition remission, and subsidized health insurance coverage. Sometimes the Graduate School will circulate emails regarding assistantship openings but don't wait around to be contacted. Be proactive, enquire about assistantships at the Library, the Museum, the Student Union, Fraternity & Sorority Life, Student Housing, and anywhere else you can think of! Remember that assistantships are competitive, so you'll need to put time into your application.
Find somewhere to live. There is an abundance of apartment complexes here in Oxford and they range from budget to luxury. Most apartment complexes will offer incentives to persuade you to sign a lease with them. When I signed a lease at my apartment complex, for example, I was given one month free rent and a $200 gift card. So don't be afraid to ask what they can offer you! Alternatively, renting a house with some roommates is very popular with graduate students. I'd recommend living somewhere on the OUT bus route so that you have the option of riding the bus to class (it can sometimes be very tricky to find a parking spot on campus!).
Find people to live with. If you'd like to have a say in who you live with, rather than risk randomly assigned roommates, there are two options that I would recommend. You can write an email to your fellow Southern Studies students asking if anyone is looking for roommates (Dr. McKee can circulate it for you). Or you can use the off-campus housing website – offcampus.housing.olemiss.edu. This website is the roommate-search equivalent of online dating – once you've created a profile you can browse other members and send messages to people you're interested in sharing with!
Register for classes. Registration is open! Browse the course directory and register for classes. Remember that all first year Southern Studies M.A. students are required to take the intro "Southern Studies 601" class. This leaves you with the freedom to pick two other classes at the five-hundred level or above. If you're an international student, you might not be able to register for classes before you arrive in Oxford. As soon as your arrive in town, you'll need to present relevant paper work to the International and Bursar Offices before holds are removed from your student account. Don't worry if you can't register in advance, there will still be time during orientation to sign up for classes.
Keep your eyes peeled for football tickets! As you've probably heard, football at the university is a big deal. Every university student has to experience Game Day in the Grove. Buying a student season ticket is the best value if you plan to attend more than a couple of games, but there are a limited number available. If you wait until you arrive in August to buy tickets, it'll be too late – I learned this the hard way in my first semester! Once you've registered for classes, you'll be able to make a student account on olemisssports.com – here you'll find out when student season tickets go on-sale (I think it's usually around mid-April).
If you have any questions, feel free to get in contact with me at smhay@go.olemiss.edu. Though I won't personally be around, I know that the awesome cohort of current first-year students will be excited to meet you all in August. Good luck preparing for graduate school, and good luck with your future studies! You're joining a brilliant program.