SouthTalks: "You Asked for the Facts" with Mary Blessey
-
-
SouthTalks: "You Asked for the Facts" with Mary Blessey
When:
April 7, 2020 @ 5:30 pm – 6:30 pm
Contact:
Afton Thomas
662-915-3363
You Asked for the Facts with Mary Blessey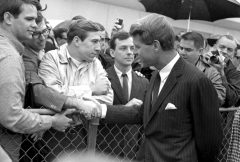 In 1966 four years after the historic enrollment of James Meredith at the University of Mississippi, student activists devised a plan to defy Mississippi's speaker ban and bring Robert F. Kennedy to the university to reveal the truth about former governor and staunch segregationist Ross Barnett.
Mary Blessey is a Mississippi filmmaker and recent graduate of the Center's MFA in Documentary Expression program. She received her MA in Southern Studies, also from the University of Mississippi, and she is the owner and founder of her production company, Holley Street Media. Her film, You Asked for the Facts, is a component of Blessey's MFA thesis project.
SouthTalks is a series of events (including lectures, performances, film screenings, and panel discussions) that explores the interdisciplinary nature of Southern Studies. This series is free and open to the public, and takes place in the Tupelo Room of Barnard Observatory unless otherwise noted. (This event will be in the Overby Auditorium.)