SouthTalks: "Shall We Stay in Hell on Earth?"
-
-
SouthTalks: "Shall We Stay in Hell on Earth?"
When:
January 26, 2022 @ 12:00 pm – 1:00 pm
2022-01-26T12:00:00-06:00
2022-01-26T13:00:00-06:00
"Shall We Stay in Hell on Earth?" with Alicia Jackson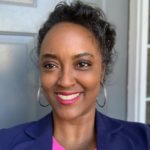 By the early 1870s, life for rural Black Georgians was marred by restrictive laws that unduly regulated Black farmers, separated Black families, and incarcerated Black men at alarming numbers. More specifically, the growth in the incarceration of Black men fed into what became a burgeoning convict lease system for the state.
During this SouthTalk, Alicia Jackson will explore how formerly enslaved people found refuge from racial injustice during the waning years of Reconstruction and beyond by escaping to Black communities in places like Panola, Tate, and Marshall counties in North Mississippi. Here, many experienced a fleeting period of economic opportunity, access to political office, and freedom to establish their own churches and educational institutions. Jackson's talk is part of her new book, The Recovered Life of Isaac Anderson. Isaac Anderson, a minister and politician, was forced to flee from his home in Georgia despite being elected to the state senate in 1870. Like hundreds of other formerly enslaved people, he found refuge in northern Mississippi, although that sanctuary would ultimately be short lived. The Recovered Life of Isaac Anderson uncovers his story.
Jackson is an associate professor of history at Covenant College in Lookout Mountain, Georgia. She currently leads a student-based research project known as the District Hill Cemetery Project. With most of the gravemarkers gone, the community-based project focuses on recovering the lost history and stories of a vibrant Black community located in southern Appalachia. Her most recent publications include "Having Our Own: The Colored Methodist Episcopal Church and the Struggle for Black Autonomy in Education," which was included in the edited collection Southern Religion, Southern Culture: Essays Honoring Charles Reagan Wilson. She was awarded a Louisville Project Grant for Researchers in 2016 for The Recovered Life of Isaac Anderson.
SouthTalks is a series of events (including lectures, performances, film screenings, and panel discussions) that explores the interdisciplinary nature of Southern Studies. This series is free and open to the public, and typically takes place in the Tupelo Room of Barnard Observatory. However, as a result of the ongoing health crisis, some events will be virtual, free, and accessible on the Center's YouTube channel after each live event. Visit the Center's website for up-to-date-information about all Center events. Registration will be required for all virtual events in order to receive the webinar link.