SouthTalks: "Always in Season" with Jacqueline Olive
-
-
SouthTalks: "Always in Season" with Jacqueline Olive
When:
March 18, 2020 @ 5:00 pm – 6:00 pm
Contact:
Afton Thomas
662-915-3363
Visiting Documentarians Series: "Always in Season"  with Jacqueline Olive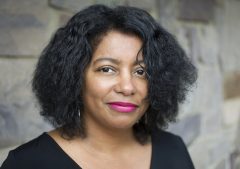 Jacqueline Olive is an independent filmmaker and immersive media producer with fifteen years of experience in journalism and film. Always in Season, her debut feature documentary, explores the lingering impact of more than a century of lynching and connects this form of racial terrorism with racial violence today. The film follows Claudia Lacy as she moves from paralyzing grief to leading the fight for justice for her son, Lennon Lacy, who was found hanging from a swing set in rural North Carolina in 2014. As the film unfolds, Lennon's case—and the suspicions surrounding it—intersect with stories of other communities committed to breaking the silence of their own recent histories and leading the way to justice. This event is cosponsored by the Oxford Film Festival, March 18–22.
Listen to a Feb. 24 interview with NPR's Robin Young.
SouthTalks is a series of events (including lectures, performances, film screenings, and panel discussions) that explores the interdisciplinary nature of Southern Studies. This series is free and open to the public, and takes place in the Tupelo Room of Barnard Observatory unless otherwise noted. This event is in the Overby Center Auditorium.