SouthTalks Lecture: "Art and Activism at Tougaloo College"
-
-
SouthTalks Lecture: "Art and Activism at Tougaloo College"
When:
October 2, 2019 @ 12:00 pm – 1:00 pm
2019-10-02T12:00:00-05:00
2019-10-02T13:00:00-05:00
Where:
Tupelo Room, Barnard Observatory

Contact:
Afton Thomas
662-915-3363
"Art and Activism at Tougaloo College" with Turry M. Flucker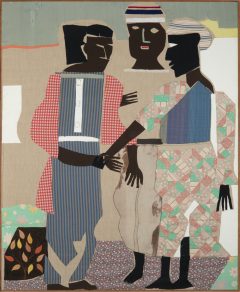 The focus of this talk will highlight significant works by modern visual artists from the Tougaloo College Art Collections as the college celebrates the sesquicentennial year of its founding. During the turbulent 1960s, a group of New York art activists involved in the struggle for civil rights formed the New York Art Committee for Tougaloo College. In the spring of 1963, the committee shipped works by important modern American and European artists to Tougaloo College, marking the first collection of modern art in Mississippi. This was a watershed moment for the state that brought modernism to Mississippi during a time of profound social change in America.
Turry M. Flucker currently serves as the art collections administrator for the Tougaloo College Art Collections. Before becoming the collections administrator at Tougaloo, Flucker served as the arts industry director at the Mississippi Arts Commission (MAC), branch director at the Louisiana State Museum, and chief curator at Smith Robertson Museum in Jackson, Mississippi. Flucker, a native of Houston, Texas, earned a BA in history with an emphasis in African American studies from Tougaloo College and an MA in Southern Studies from the University of Mississippi.
SouthTalks is a series of events (including lectures, performances, film screenings, and panel discussions) exploring the interdisciplinary nature of Southern Studies. This series takes place in the Tupelo Room of Barnard Observatory unless otherwise noted, and is free and open to the public.