SouthTalks with Jelani Cobb: "The Half-Life of Freedom, Race and Justice in America Today"
-
-
SouthTalks with Jelani Cobb: "The Half-Life of Freedom, Race and Justice in America Today"
When:
October 19, 2020 @ 5:00 pm – 6:00 pm
2020-10-19T17:00:00-05:00
2020-10-19T18:00:00-05:00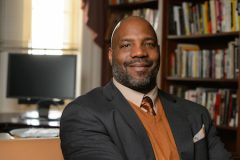 Journalist and educator W. Jelani Cobb writes about the enormous complexity of race in America. As recipient of the Sidney Hillman Prize for Opinion & Analysis Journalism for his New Yorker columns, Cobb was praised for combining "the strengths of an on-the-scene reporter, a public intellectual, a teacher, a vivid writer, a subtle moralist, and an accomplished professional historian"—qualities he brings to his gripping talks.
Jelani Cobb joined Columbia University's Journalism School faculty in 2016. He has contributed to The New Yorker since 2012, and became a staff writer in 2015.  Before coming to Columbia, Cobb was an Associate Professor of History and Director of the Africana Studies Institute at the University of Connecticut where he specialized in post-Civil War African American history, 20th century American politics and the history of the Cold War. Dr. Cobb is also a recipient of fellowships from the Fulbright and Ford Foundations.
Dr. Cobb is the author of The Substance of Hope: Barack Obama and the Paradox of Progress as well as To the Break of Dawn: A Freestyle on the Hip Hop Aesthetic. His articles and essays have appeared in The Washington Post, The New Republic, Essence, Vibe, The Progressive, and TheRoot.com. His collection The Devil and Dave Chappelle and Other Essays was published in 2007, and he is the editor of The Essential Harold Cruse: A Reader, published in 2002.  Born and raised in Queens, New York. He is a graduate of Howard University and Rutgers University where he received his doctorate in American History.
This event is sponsored by the Center for the Study of Southern Culture as part of the Future of the South Initiative and the Voting and Community Activism events this fall. Other sponsors include the Division for Diversity and Community Engagement, the College of Liberal Arts, the Sally McDonnell Barksdale Honors College, the School of Law, the Arch Dalrymple III Department of History, the Department of English, the Sociology and Anthropology Department, Department of Political Science and the School of Journalism and New Media.
SouthTalks is a series of events (including lectures, performances, film screenings, and panel discussions) that explores the interdisciplinary nature of Southern Studies. As a result of the current health crisis, all events will be virtual, free, and accessible on the Center's YouTube channel. Visit the Center's website for up-to-date information about all Center events. Registration will be required for all events.