Brown Bag Lecture: The Lesbian South: Southern Feminists, the Women in Print Movement, and the Queer Literary Canon
-
-
Brown Bag Lecture: The Lesbian South: Southern Feminists, the Women in Print Movement, and the Queer Literary Canon
When:
February 6, 2019 @ 12:00 pm – 1:00 pm
Where:
Tupelo Room, Barnard Observatory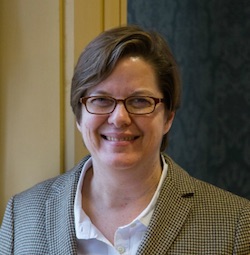 Jaime Harker is a professor of English and the director of the Sarah Isom Center for Women and Gender Studies at the University of Mississippi, where she teaches American literature, LGBTQ literature, and gender studies. She has published essays on Japanese translation, popular women writers of the interwar period, Oprah's book club, William Faulkner, Cold War gay literature, and women's liberation and gay liberation literature. Her talk will be on her new book, The Lesbian South: Southern Feminists, the Women in Print Movement, and the Queer Literary Canon.
The Brown Bag Lecture Series takes place at noon on Wednesdays in the Tupelo Room of Barnard Observatory unless otherwise noted.