Brown Bag Lecture: Saravah! A Trip to the World of Samba de Roda from Bahia
-
-
Brown Bag Lecture: Saravah! A Trip to the World of Samba de Roda from Bahia
When:
April 15, 2019 @ 12:00 pm – 1:00 pm
Where:
Tupelo Room, Barnard Observatory

RESCHEDULED DATE: MONDAY, APRIL 15 at NOON
Samba de Roda, which involves music, dance, and poetry, is a popular festive event that took place in the State of Bahia, in the region of the Recôncavo and Sertão in the seventeenth century. The dance is performed on several occasions, such as popular festivities or Afro-Brazilian religious ceremonies, but also performed in more spontaneous contexts.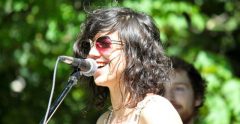 Jerusa Leão is a Brazilian artist, singer, songwriter, and multi-instrumentalist. Originally from Bahia, Jerusa grew up in the cities of this arid province, beginning her artistic career in 1995. Leão resides in Brazil, performing as a travelling solo singer and researcher of Brazilian culture. She has an ongoing multimedia research project called It's Just a Shot Away—an exchange of cultural knowledge between Canada and Brazil.
The Brown Bag Lecture Series takes place at noon in the Tupelo Room of Barnard Observatory unless otherwise noted.