Brown Bag Lecture: Patrolling the Border: Theft and Violence on the Creek-Georgia Frontier, 1770–1796
-
-
Brown Bag Lecture: Patrolling the Border: Theft and Violence on the Creek-Georgia Frontier, 1770–1796
When:
February 13, 2019 @ 12:00 pm – 1:00 pm
Where:
Tupelo Room, Barnard Observatory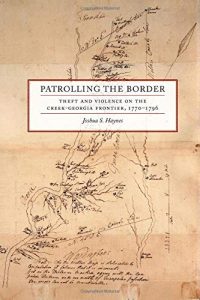 Joshua S. Haynes is an ethnohistorian who researches, publishes, and teaches early American and Native American history focusing on themes such as colonialism, violence, and state formation. His book, Patrolling the Border: Theft and Violence on the Creek-Georgia Border, 1770–1796, was published by the University of Georgia Press in 2018.
The Brown Bag Lecture Series takes place at noon on Wednesdays in the Tupelo Room of Barnard Observatory unless otherwise noted.