Brown Bag Lecture: God with Us: Lived Theology and the Freedom Struggle in Americus, Georgia, 1942–1976
-
-
Brown Bag Lecture: God with Us: Lived Theology and the Freedom Struggle in Americus, Georgia, 1942–1976
When:
February 27, 2019 @ 12:00 pm – 1:00 pm
Where:
Tupelo Room, Barnard Observatory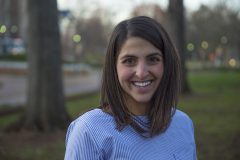 Ansley L. Quiros is an assistant professor of history at the University of North Alabama, specializing in US history, African American history, the history of immigration, and the history of race and religion. She is a native of Atlanta, and a graduate of Furman University in South Carolina and Vanderbilt University in Tennessee. Quiros will discuss her new book, God with Us: Lived Theology and the Freedom Struggle in Americus, Georgia, 1942–1976.
The Brown Bag Lecture Series takes place at noon on Wednesdays in the Tupelo Room of Barnard Observatory unless otherwise noted.