Brown Bag Lecture: An Unseen Light: Black Struggles for Freedom in Memphis, Tennessee
-
-
Brown Bag Lecture: An Unseen Light: Black Struggles for Freedom in Memphis, Tennessee
When:
February 20, 2019 @ 12:00 pm – 1:00 pm
Where:
Tupelo Room, Barnard Observatory

Charles McKinney is Neville Frierson Bryan Chair of Africana Studies and an associate professor of history. In addition to An Unseen Light, he is the author of Greater Freedom: The Ev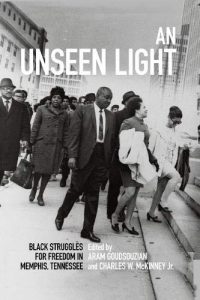 olution of the Civil Rights Struggle in Wilson, North Carolina. Aram Goudsouzian is chair of the Department of History at the University of Memphis. He earned his BA from Colby College and his PhD from Purdue University. He is the author of Down to the Crossroads: Civil Rights, Black Power, and the Meredith March against Fear, King of the Court: Bill Russell and the Basketball Revolution, The Hurricane of 1938, and Sidney Poitier: Man, Actor, Icon. McKinney and Goudsouzian will discuss their edited book, An Unseen Light: Black Struggles for Freedom in Memphis, Tennessee.
The Brown Bag Lecture Series takes place at noon on Wednesdays in the Tupelo Room of Barnard Observatory unless otherwise noted.