Brown Bag Lecture: A Soul Comes Home to Her Mississippi Roots
-
-
Brown Bag Lecture: A Soul Comes Home to Her Mississippi Roots
When:
April 3, 2019 @ 12:00 pm – 1:00 pm
Where:
Tupelo Room, Barnard Observatory

Joye Hardiman is an educational architect, cultural custodian, world traveler, and ancestral storyteller. She served as the executive director of the Evergreen State College's Tacoma Campus from 1990 to 2008 and is currently the interim director of the Washington Center for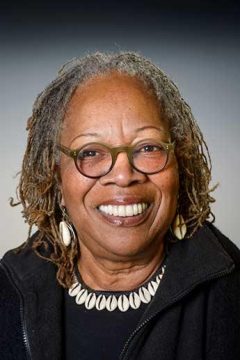 Improvement in Higher Education. She has done extensive research on Africana history, cultural continuity and spirituality in Egypt, Ethiopia, Kenya, Uganda, Mali, the Gambia, Ghana, Senegal, Ivory Coast, Cameroon, South Africa, India, the Yucatan, Trinidad, Brazil, Ecuador, Panama, and Cuba.
Her current research focus is on Cameroonian Nile Valley linguistic, cultural, symbolic, and spiritual retentions.
Hardiman will present "A Soul Comes Home to Her Mississippi Roots," documenting her first return trip to Mississippi. Her family left shortly after Emmett Till's murder. She will place this trip within the broader context of displaced African Americans reconnecting with their roots in the US South.
The Brown Bag Lecture Series takes place at noon on Wednesdays in the Tupelo Room of Barnard Observatory unless otherwise noted.