Music of the South ConcertS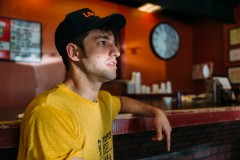 Begun in the fall of 2015, the Center has produced  Music of the South Concerts in several venues, with the goal of providing an intimate space where the musicians can talk with the audience. Concerts have been held in the Ford Center for Performing Arts, Barnard Observatory, the Grove Stage, and Shelter on Van Buren.
Southern Studies MA alumna and folksinger Caroline Herring gave the inaugural performance in October 2012, and other performers on the series include Randall Bramblett, Valerie June, Jerron "Blind Boy" Paxton, Southern Studies MA alumnus and member of the band Widespread Panic John "JoJo" Hermann, Tyler Keith, Amy Andrews, the bands Water Liars and Feufollet, and Lee Bains of the Glory Fires. An August 2016 show at Shelter featured Marco Pavé and Alfred Banks, as part of their River Kings Tour. They performed at the conclusion of the Center's Hip-Hop Scholarship week.
The Center hopes to continue the series and will update this page with events.