Brown Bag: Ed Croom on The Land of Rowan Oak: An Exploration of Faulkner's Natural World
-
-
Brown Bag: Ed Croom on The Land of Rowan Oak: An Exploration of Faulkner's Natural World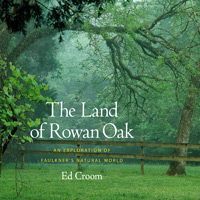 More than fifty years after Faulkner's death, Rowan Oak remains a sanctuary and a place of mystery and beauty nestled in the midst of Oxford, Mississippi. The photographs in The Land of Rowan Oak are botanist Ed Croom's exploration and documentation of the changes in the plants and landscape over more than a decade. Croom encountered early morning mists, the summer heat and haze, and even rare snowfalls in his near-daily walks on the grounds. His photographs record a decaying fence line, trees and plants that have since disappeared, and the newly restored sunken garden.
This book honors the land Faulkner loved. While Faulkner's novels have left an indelible legacy in southern and American letters, the landscape of his beloved home also serves as a record of the botanical history of this most storied corner of the American literary South.
Ed Croom of Oxford, Mississippi is president of Croomia Botanical Scientific and Regulatory Consulting, and he previously was a full-time faculty member at the University of Mississippi. His work has appeared in the books Herbal and Magical Medicine; Taxol: Science and Application; and Encyclopedia of Dietary Supplements as well as other plant science and chemical journals. His photography has been exhibited at the University of Mississippi and appeared in USA Today, the Scientist, and the Saturday Evening Post.
A reception will take place in the lobby of Barnard Observatory from 3:30-5 p.m.
Brown Bags occur on select Wednesdays during the school year in Barnard Observatory.